What is digital in dentistry?
Digital dentistry consists of using computer and technological tools such as 3D printers, various softwares, digital radiology or scanners with the ultimate goal of improving dental care and patient comfort.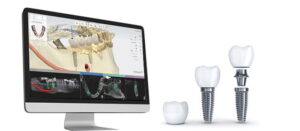 Why use digital technology in dentistry?
Time saving
Accurate diagnosis
High precision
Patient's satisfaction and comfort
Improved dentist-patient communication
How is dental care performed in the digital age?
At first, the impression is taken by an intraoral camera (instead of the classic impression) to collect the exact morphology of the patient's teeth.
The next step is to design the prosthesis more accurately by computer software.
The final step is to manufacture the prosthesis using a 3D printer for dental use.
In which dental care can digital be used?
 In fixed and removable prosthesis (crowns, veneers etc.): to replace one or more missing teeth
 In implantology (guided implantology): to place dental implants using a digitally created guide
In orthodontics (using aligners): to correct the positioning of the teeth
Dr EZZAHOUANI Badr