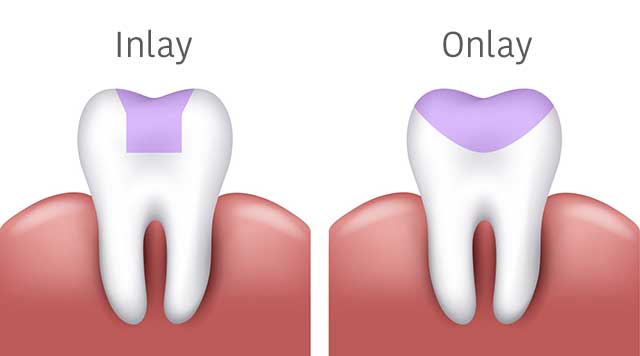 Inlays & Onlays
Inlays
It is a treatment chosen by the practitioner when the restorations made directly in the mouth (ex: composites and amalgams) do not achieve a good result (ex: lack of suitable contact with the neighboring tooth). The piece, metal, ceramic or resin, is cast or machined in the laboratory and then attached to the tooth using a bonding composite.
Onlays
It is a partial prosthesis made when the tooth destroyed by decay or a fracture has:
Significant decay, which contraindicates restorations made directly in the mouth by the dentist, such as composites and amalgams, which may present the risk of fracturing because they are not strong enough
Few residual tooth walls.
After the preparation and the impression, the onlays will be made in the laboratory, they can be made of metal, resin, or ceramic, their fixation on the tooth is done with the bonding composite.